Hardy's Wine – Eileen Hardy, Pinot Noir
Pinot Noir is one of the famous grape varieties from Burgundy, France but now adopted and studied in wine regions all over the world.
This Hardy's wine is made from 100% Pinot Noir. To be able to create and find the right mix and carry the "Eileen Hardy" label, the Hardy's winemakers pick the best of this grape variety.

Hardy's Wine – Eileen Hardy, Pinot Noir
Grapes are harvested by hand. 35% of them undergo the fermentation. Cultured yeasts and warm fermentation temperatures were used.
30% of the wine was fermented in barrels and matured in Burgundian combined with French oak.
Eileen Hardy Pinot Noir presents a medium red color with colorful hues as the bouquet is perfumed with rich anise spice and red fruits combined with black cherry, blueberry, plum and some smooth oak influence.
The amazing length on the palate makes Eileen Hardy Pinot Noir more intriguing especially to wine lovers and regular consumers.
Information about Eileen Hardy, Pinot Noir
Brand name: Hardy's Wine – Eileen Hardy, Pinot Noir
Wine name: Eileen Hardy, Pinot Noir
Country: Australia
Region: South Eastern Australia
Website: Hardy's Wine
Tasting Notes
Tint: Medium red with lively hues
Aroma: Anise spice, red fruits, black cherry, blueberry, plum and some harmonious oak influence
Flavour: Lengthy, wonderful sweet fruit
Tannins: Silky, fine
Food pairing: Lamb rack, chicken and turkey
Bottle size: 75 cl
Grapes: 100% Pinot Noir
Data Sheet: PDF (Backup)
Image: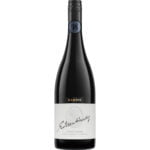 Hardy's Wine – Eileen Hardy, Pinot Noir 2014
Awards
DECANTER WORLD WINE AWARDS, Recognition won: Gold
HONG KONG INTERNATIONAL WINE & SPIRIT COMPETITION, Recognition won: Silver
Hardy's Wine – Eileen Hardy, Pinot Noir 2013
Awards
DECANTER WORLD WINE AWARDS, Recognition won: Silver
INTERNATIONAL WINE CHALLENGE, Recognition won: Commended
HONG KONG INTERNATIONAL WINE & SPIRIT COMPETITION, Recognition won: Silver
Hardy's Wine – Eileen Hardy, Pinot Noir 2012
Awards
DECANTER WORLD WINE AWARDS, Recognition won: Silver
HONG KONG INTERNATIONAL WINE & SPIRIT COMPETITION, Recognition won: Bronze
INTERNATIONAL WINE CHALLENGE, Recognition won: Silver
Hardy's Wine – Eileen Hardy, Pinot Noir 2010
Awards
DECANTER WORLD WINE AWARDS, Recognition won: Gold
HONG KONG INTERNATIONAL WINE & SPIRIT COMPETITION, Recognition won: Silver