Hardy's Wine – Nottage Hill Merlot
Merlot is red wine grape variety with powerful historical ties to Bordeaux and also in the southwest part of France.
Grapes are harvested manually and done earlier during cooler climates to prevent the early-developing flowers encounter frost damage.

Hardy's Wine – Nottage Hill Merlot
The Merlot grape variety makes wines smooth, rounded and "easy drinking", which are commonly, attract wine lovers and even new drinkers.
Nottage Hill Merlot offers deep rum color with ruby hues as well as the aromas of plum, berry and blackcurrant fruits layered with subtle oak and hints of aniseed.
These aromas are combined with flavors of plum fruit and cherry integrated with sweet oak. These characteristics and tasting notes of Nottage Hill Merlot gave it the opportunity to succeed in the market.
Information about Nottage Hill Merlot
Brand name: Hardy's Wine – Nottage Hill Merlot
Wine name: Nottage Hill Merlot
Country: Australia
Region: South Eastern Australia
Tasting Notes
Tint: Deep plum with ruby hues
Aroma: Plum, berry and blackcurrant fruits
Aroma hints: Aniseed and spice
Flavour: Soft, well-balanced plum fruit and cherry with integrated sweet oak
Tannins: Fine and extended
Food pairing: Roast beef, rack of lamb with balsamic and rosemary reduction, grilled vegetables with hard cheese
Alcohol %: 13.5 – 13.6
Bottle size: 75 cl
Grapes: 100% Merlot
Data Sheet: PDF (Backup)
Image: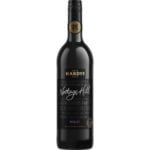 Hardy's Wine – Nottage Hill Merlot 2006
Awards
LOS ANGELES INTERNATIONAL WINE COMPETITION, Recognition won: Bronze
DAN BERGER'S INTERNATIONAL WINE COMPETITION, Recognition won: Silver
LOS ANGELES INTERNATIONAL WINE COMPETITION, Recognition won: Bronze
THE TEXSOM INTERNATIONAL WINE AWARDS, Recognition won: Silver
DAN BERGER'S INTERNATIONAL WINE COMPETITION, Recognition won: Bronze
Hardy's Wine – Nottage Hill Merlot 2003
Awards
FINGER LAKES INTERNATIONAL WINE COMPETITION, Recognition won: Gold
Hardy's Wine – Nottage Hill Merlot 2002
Awards
SAN FRANCISCO INTERNATIONAL WINE COMPETITION, Recognition won: Bronze