Kalecik Karasi Wine Grapes
It is often said that if Gamay and Pinot Noir had a love-child, Kalecik Karasi is what it would taste like.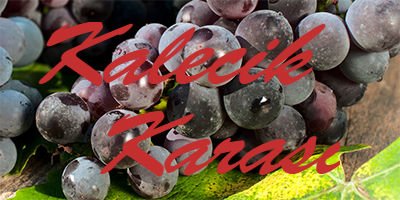 Kalecik Karasi often abbreviated as KK is a primary bluish black skinned grape variety of Turkey. Although it is considered as one of the country's top red wine producing varietal it is largely unheard of outside Turkey.
This grape variety is mainly cultivated in the northern parts of the country which itself has a rich history of Viticulture. It is so believed that this varietal has got its name from the district of Kalecik situated in the Ankara Province.
Although this variety was on the brink of extinction for a long time the renewed interest in the aboriginal grape varieties of this region has benefited this variety.
Being pretty much of a tongue twister, the name Kalecik Karasi means "black from the castle". This so named because the village of Kalecik where this variety is grown along the river valley of Kizilirmak does have a castle.
It is sometimes also called by the name Kara Kalecik. Because of its increasing demand this grape variety is now grown in other parts of turkey like in the Denizli, Manisa and Uşka region as well as in Mid-Southern Anatolia.
History of Kalecik Karasi grapes
It is said that this species was first discovered by the Hittities, who were the inaugural inhabitants of the Kalecik region back in 3500 or 4000 BC.
Earlier it was often compared to the Pinot Noir due to its red-fruit flavours spectrum. However, this was wrong as the texture of Kalecik Karasi was different from Pinot Noir with respect to the presence of course tannin content.
Viticulture and Wine making for Kalecik Karasi
Despite the fact that Ankara has hot and dry summer and chilly, snowy winters the Kizilirmak River creates a special type of Microclimate which is perfectly suitable for the growth of this species.
Kalecik Karasi requires a clayey pebbled soil for its growth.
The mountains surrounding the Kalecik region also helps in the creation of the microclimate suitable for the growth of this variety.
The hot air that rises from the valley hits these mountains and get obstructed thus creating a perpetual warm weather in the valley.
Apart from this the fact that there is a huge difference between the temperatures of day and night in this region imparts Kalecik Karasi its distinguishing taste and aroma.
The grapes undergo cold Pre-fermentation maceration which is the process of extracting flavour and colour from the grape skin and is also often referred to as cold soaking. Then it undergoes fermentation in stainless steel tanks under controlled temperature.
Then they are aged in French Oaks for at least fourteen months and further aged for six more months in the bottle.
Characteristics of Kalecik Karasi
Kalecik Karasi has round, blue-black coloured medium sized berries with thick skin. The clusters are generally conical or cylindrical with 5 lobed leaves. They ripen during the latter half of September.
The wine is dried red rose in colour with a sweet sugar candy aroma. They tend to have a fruity perfume of strawberry, cherry, red berry, raspberry, cotton candy.
On the palate Kalecik Karasi leaves an intense and lasting taste of soft well balanced tannins, which is long and feels elegant. The wine produced is medium bodied with a little minerality to it.
Upon ageing they give out the enhanced aroma of cocoa and vanilla. It is light and has a certain amount of crispness to the palate. The alcohol content of the wine ranges between 12 to 14%. They have a pH level of 3.68 with 2.92 g/l residual sugar.
The Kalecik Karasi wine exhibits an acidity level of 4 to 7g/l. In a glass, it exhibits a rich ruby stoned colour. Because of the wine's unparalled flavour, aroma and taste it has been festooned with many awards and this has also helped Kalecik Karasi win a number of contests in the International wine market.