Madeleine Angevine grapes
Madeleine Angevine is a white skin grape belonging to Vitis vinifera species. It originated in the Loir valley of France and then spread to Germany, United Kingdom, USA and central Asia.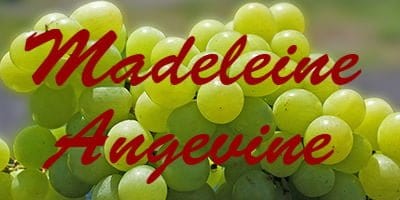 It is known by alternative names like; Korai Magda, Maddalena  Angevina, Juliusi, Madlen Anzhevin etc. Madeleine Angevine is used as table grapes and making wine. This grape finds its home in all climatically diverse regions, from the cold highlands of Germany to hot- dry regions of Kyrgyzstan. Madeleine Angevine have only female flowers, hence it's not self-pollinating variety.
However, its gene has been used popularly for breeding. In the vineyards of United Kingdom, Madeleine Angevine is popularly grown in Shropshire and Yorkshire under the name of Madeleine X Angevine.
Around 4% of the plating area in the United Kingdom is dominated by this grape. Its demand in central Asia and Europe is consistently increasing. Recently it was awarded a Gold medal in Cascadia wine competition and silver medal in Savor NW wine competition 2016.
Although the origin of this grape is traced back to 1857, but the commercialization of Madeleine Angevine in England and Washington Statewas spread by Ray Brock. It was Ray Brock, who named the grape Madeleine X Angevine 7672, and for many years it was recognized by the same name.
The sampling 7672 was shipped to Ray Brock from the German viticulture institute at Alzey.
It is believed that Madeleine Angevine was first grown in the 1920s.Madeleine Angevine is a popular variety of French grapes grown in England and Germany.
Viticulture and winemaking of Madeleine Angevine
The size of the flower is medium-large and is generally round or toothed edges in shape having 3 to 5 lobes.  A Madeleine Angevine grape has juicy berries of medium size, round in shape and yellow-green in color.
This grape comes in a medium size bunch with high density. The maturation period of this grape is early to middle and harvest is done during late September. This grape is most suited in damp, cold sand drizzly weather.
Since the thin leaves of the grape blow away in strong winds the space between two vines in the row is kept around 1.2m. Madeleine Angevineare used to produce some of the most popular wines.
Few famous wines made out of the berries of Madeleine Angevine are; Gifford Hall vineyard, Sharpham Estate selection, Danebury vineyards etc. these wines are produced mainly in England. The wine made from Madeleine Angevine is good for aging.
Characteristics of Madeleine Angevine
The Madeleine Angevine is more popular for its contribution of the gene. It can be crossed with Silvaner Geilweilerhof to breed grapes like Forta and Noblessa.
It crosses with Traminer to make the Comtessa grape. So we see that Madeleine Angevine is still used as a mother variety to develop other grapes. The taste of the grape is sweet citrus having medium-low acidity.
The wines made from Madeleine Angevine contain alcohol of about 11.2% by volume. The wine is dry and crispy. Just after the manufacture of these wines they contain pear-drop aroma, but with age, it disappears. It has the flavor of walnut, pear and has an earthy taste. The wine has no residual sugar. Although it is dry it possesses fruity taste.